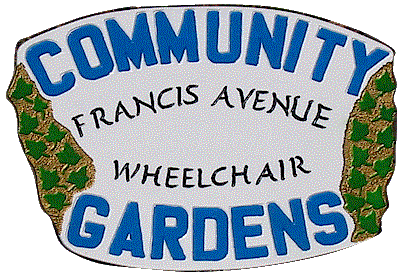 Built and maintained by Daniel, Started last week of July, 2005. As of 2010 the garden was closed due to a sidewalk getting built on this boulevard. Call me for consultation on how to build your own. 250 317-3966 or daniel at mulchgardening. com

2438 Richter street. (North West corner of Francis Ave & Richter St.)

MORE PICTURES...
Happy Gardeners!

Boxes planted to ease picking

GARDEN BOX CONSTRUCTION
TIPS:

- Lining the box with a tarp, then placing old wood shakes prevents digging damage to irrigation or ties. Shakes can be raised in fall to add extra leaves, or as loam develops from decomposing/worm digested organic material.

- Using micro head sprays and 1/2" soft poly line utilizes water most effectively, all without winter freezing damage.

- 70% less water lost to evaporation by keeping the earth completely covered with leaves. Pack the boxes in the fall with leaves, and save some bags for mid to late summer re mulching. The worms will love you, let them do the rotor-tilling! Oh Yes...also....NO WEEDING! Deep mulch will prevent weeds seeds from getting sunlight. See more from the rest of this website.
CORPORATE SPONSORS:
Kelowna Blue Granite- Located in East Kelowna at the end of Stewart Road West at Arthon's Crawford Quarry 764-8812 www.kelownabluegranite.com
Growers Supply Co- Commercial Sales 2605 Acland Rd 765-4500
Van-Kel Distributors Ltd.- For all your Irrigation needs. Products, systems, knowledge - working with you to provide excellence in irrigation. Westside 769-6868, Rutland 765-3181. www.vankel.ca
Dogwood Nursery & Landscaping - Complete Garden Centre. Large nursery stock selection/ garden & plant layouts/ landscape consultants/ landscape & irrigation supplies. Open every day! 3417 Paynter Rd. Westbank 768-3355